Integrated Automation System
IAS, SSAS-Master
"IAS meets customer needs with its reliable and proven system performance,
efficient operation and easy maintenance."
S&SYS developed the IAS based on its rich knowledge and experience in shipbuilding industry especially related with LNG vessels and special vessels.
Since IAS is designed into an innovative dual system from advanced workstation to I/O cards in the sub-category, it can detect and control all malfunctions.
LNG Floating Storage Regasification Unit(FSRU), Fuel Gas Storage & Supply System(FGSS).
System Components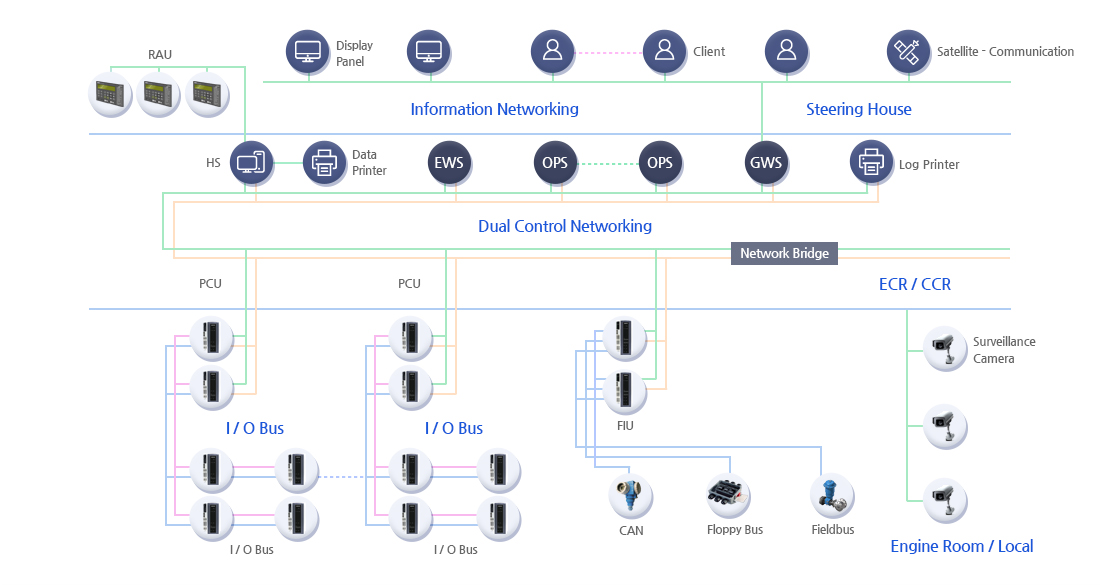 Products
Simple and systematic network composition

Can be installed regardless of place
including DIN rail, panel, etc.

Compact and uniform
modularized hardware structure

Fault tolerant / uninterruptible hardware replacement ensures system continuity
and easy maintenance

Easy to check status via external LED

Intuitive and modern design
Specifications
PCU (Process Control Unit)

Built-in 32-bit microprocessor with real time operating system
Fault tolerant Ethernet control unit
Fault tolerant control network & I/O network

Supports default Modbus (1 slot) 8 channels
(Optically separated serial communication channel)

IOGW(I/O Gateway)& I/O modules

Wireless online monitoring based on
portable monitoring unit
Communication network with PCU and FIU

Fault tolerant network communicating
with I/O modules
I/O modules supporting various types (13 types)

FIU(Fieldbus Interface Unit)

Built-in 32-bit microprocessor with real time operating system
Fault tolerant Ethernet control unit
Fault tolerant control network & I/O network
Supports various fieldbus interfaces such as Profibus,
LAN, CAN, Modbus, NMEA, etc. (Expandability)

3 insert type fieldbus interface modules
with expandability
Modbus interface expansion module (Up to 2 slots /
16 channels) (Optically separated serial communication channel)
Interface expansion module for Profibus,
LAN and CAN (1 slot)
Functions & Features
Functions
High Performing & Highly Reliable Components

- Built-in 32-bit microprocessor with real time
operating system
- Can be installed regardless of place such as
DIN rails and panels
- Compact and uniform modular hardware structure

High Reliability

- Dual composition of process control and database
- Fault tolerant control network & I/O network

Powerful Integration & Interface

- Expandability with 3rd party based on standard interface protocol
- Diverse and easy-to-use user definition report
Features
Provides modern design guidance
and optimized system

Prevent process errors based on shipbuilding and system engineering experience
Interface in harmony with 3rd party systems
(Boiler, CES, ESDS, EPS, INS, SMS, CCTV, etc.)
Modularization for easy installation and fault tolerant replacement
for low maintenance costs, etc.
Two-way knowledge based manuals for maintenance and repairs

Intuitive and Easy Controls &
Efficient Problem Solving

Drag-and-drop trend analysis
Integrated explanation on animation functions, equipment and process
Integrated log input for trend analysis and loop interpretation
Change and expand page by aligning multiple windows
Multiple monitor function
Screen composition optimized to various resolutions
GUI
Gas Management System
Cargo Tank
Incheon Port Authority
S-FUGAS for XDF /
ME-GI engine